A couple in Copenhagen - The Alternative Guide
Cosy in Copenhagen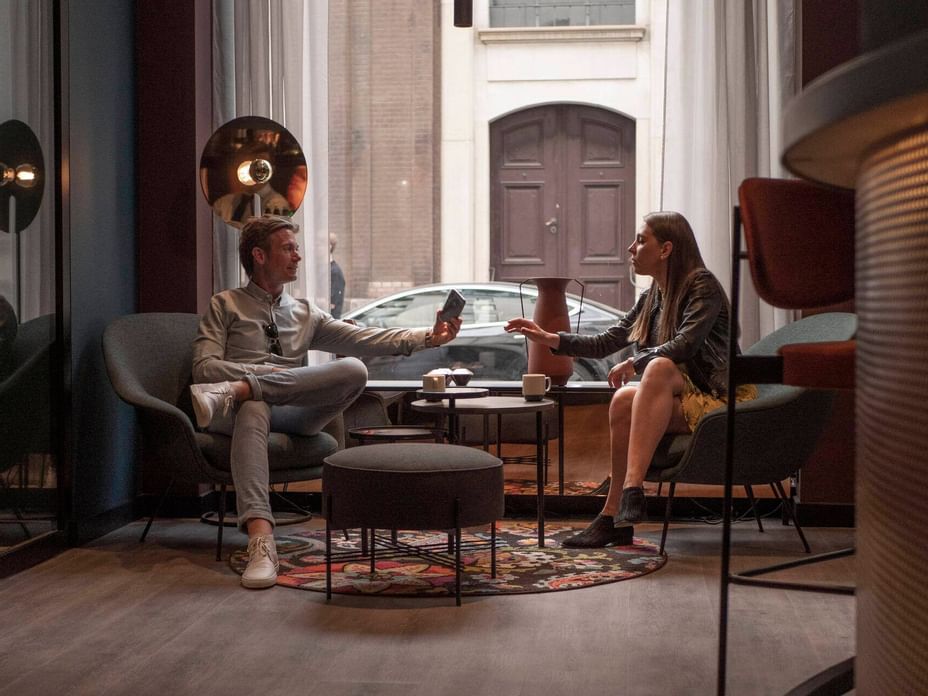 From the postcard-pretty kaleidoscope of colour that is Nyhavn to taking a photo with Edvard Eriksen's famous Little Mermaid statue, and from Tivoli roses and rollercoasters to booking a table at one of the city's exceptional cuisine-defining restaurants, Copenhagen is very much a couple's city. But what about something a little unexpected, more off-the-beaten-path or just old-fashioned simple-romance without the pressure or the dent to your wallet. In our alternative guide to Copenhagen for couples we've hand selected some of our favourite city activities.
Bike – With its wide bicycle lanes, its lack of anything resembling an incline, and the city's love for all-things pedal powered, exploring Copenhagen as a couple by bike is a joy. Whether it's the endorphin boosting act of some gentle exercise or just the ability see the city without the limitations of public transport, bicycling in Copenhagen is a great way to get to your day-date destination or as a date in itself. If you're feeling particularly adventurous rent a Christiania Cargo bike. Don't be put off by the unromantic notion of 'cargo' transport, you'll often see young couples or the young-at-heart hitching a lift with their significant other in this iconic-cycle.
Beach – Not the obvious choice for a non-summer date, and perhaps an unexpected option for Denmark's capital, but a day date just outside the city on Amager Beach is the perfect alternative date idea. Think windswept romance and extra excuses to get a little closer, quiet seclusion away from the crowds, colourful kites and beautiful nature. Amager beach is literally 15 minutes out of town and offers more than 4km of sandy beach complete with cute cafés.
Brewery – One of Copenhagen's most famous tourist attractions is the Carlsberg Brewery. But as great as the brewery is, it doesn't hold the same charm, romance or level of cosy couple appeal as Copenhagen's many many bars and pubs. Narrowing down our favourites isn't easy, but for a combination of charm, local beer choice and experience, then you can't go wrong with People like us Bar at Jagtvej 135, Mikkeller & Friends at Viktoriagade 8 or Taphouse at Lavendelstræde 15 where you'll find 61 beers for you to choose from. Alternatively, if beer isn't your preferred drink then join the Copenhagen love affair with natural wine. Like 'normal' wine but arguably truer to the spirit of wine making, natural wine is produced, as you'd guess, naturally. It's available throughout the city in wine bars, cafés and restaurants but Pompette at Møllegade 3 is a great starting point with wine by the glass from just 50kr.
Bread – Definitely in the realm of alternative, the idea of taking your date out for a sandwich might not appeal, but then you probably haven't experienced the wonder of smørrebrød. Smørrebrød are Danish style open sandwiches, but it's the toppings that make them so popular and worth experiencing. From local cheese to carpaccio Copenhagen-style, several of the city's restaurants pay homage to this classic or elevate it to fine-dining status. Pick up a picnic at Aamanns Deli & Takeaway at Øster Farimagsgade 10 or settle in for a relaxed and delicious smørrebrød lunch.
Break – Check into h27 and turn your day-date into a date-night or even a couples mini-break. You'll find plenty of home comforts like fast Wi-Fi and en-suite bathroom, a great central location and a breakfast worth waking up for. And with warm solid-wood floors, a comfy bed, and uncluttered modern Danish design, the rooms at h27 are hard to leave. For the ultimate Copenhagen couples break upgrade to a Junior Suite where the big views and generous proportions invite you to forget deadlines, cancel reservations and simply relax.